Testimonies from recent Men at the Cross

"I was able to completely connect with God and give all of my burdens away. This has allowed me to focuse and accept myself as a human and child of God. I have a brothe
r
hood now that I can love and
sh
are my life with. I know for a fact I will be a better husband and father because of this weekend." - Josh, Alabama, January 2010 weekend
"A very safe environment that created for me an opportunty to allow God to restore, refresh and bring peace to my once turbulent life. This step, this beginning I know will have a profound impact on my life, both personally in how I view myself and outwardly how I treat, deal and interact with others. I believe this weekend will also have a profound impact on my family, our life and future prosperity - mind, body, soul and spirit." - Micheal, Alabama, January 2010 weekend


"Best Men's function I have attended to date. Fantastic rejuvenation of my walk." - Scott, Alabama, January 2010 weekend


"Major block removal…weights that have slowed or stopped me as a man of God. I love working with the Holy Spirit who set me free through my brothers. Precise work like the Hand Of The Great Physician. No needless beatings! Only purposed and effective work - thanks so very much!" - Nathan, Alabama, January 2010 weekend


"
Life changing - allowed me to identify and isolate my false selves, my obstacles to being real with my God and my world, and then to offer them to God's mercy. It will revolutionize my relationship with my wife. I will be more of a servan
t
-leader. I depserately need to improve and initiate a better relationship with my sons. This will help me
love them.
" - Lee, Colorado, November 2009 weekend
"Helped me work through a fear in a very practical tangible way. Renewed my vision and clarity." - Curt, Colorado, November 2009 weekend


"This weekend reaffirmed my relationship and position in Jesus Christ. It renewed my strength through the affirmation of other men. It opened an area in my life that I will need to process and give to God - daily. The impact on my marriage, family, and others will be an ongoing struggle to change deep-seated habits. I have rededicated myself to honoring my wife and helping her on her spiritual journey - beside me, Praise the King!" - Mark, Colorado, November 2009 weekend



"It was a home run. It gave me a renewed hope that there are places in the world where you can get it all out and still be loved and accepted." Gary, Houston, Texas

"Amazing, heart changing, humbling, growing experience. The weekend will deepen my relationship with my wife and kids." Andrew, Curtis, Nebraska

"This weekend has touched my heart and gut such that I could physically feel the ache and warmth of Jesus Christ through all the men present. It is because of this that I feel the power and strength to be intentionally present in the lives of my wife, children and others, through a connectedness that was unavailable to me before because of my shame." David, Boulder, Colorado


I have been a pastor for 19 years, I've been to more men's retreats and men's conferences than I care to remember. Most are cognitive in nature, with some good talks and decent fellowship; but I'd leave the experience largely unchanged. Men at the Cross is refreshingly different. From the moment of arrival and throughout the weekend, I was required to engage with all of my heart, mind, body, and strength. I was given the opportunity, in an atmosphere of safety, to peel back layers of self-protection that had kept the real "me" safely hidden. I found Men At the Cross to be a wholly transformational experience which has released me into a more healthy journey as the man God created me - and is redeeming me - to be."
Lookout Mountain Community Church
"The weekend exceeded my expectations in regards to how I thought God would be present and work through our brokenness. The weekend has helped me to reclaim my manhood and my passion. I pray that (and believe) this weekend will be the turning point in my marriage. To be reconciled, but more important - renewed beyond what I believe is possible. I also believe the relationship with my children will benefit from this weekend. Thank you Bob!" Carlos, Colorado Springs, Colorado
"The weekend has helped me face myself. I have become a more integrated person.... It has forged in me a stronger desire to live in reality - to connect with my wife, sons and the world with a greater capacity to love." Adam, Littleton, Colorado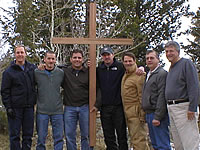 "The weekend has touched my life and heart in a way that nothing else could or has. It is impossible to put into a couple of sentences all that has happened in side me during this weekend. A healing has begun, love and power have been touched upon. I am excited to see how God will work in my life in the weeks and months to come. I know I am a different man that will be different in all my relationships. Thank you Bob, Duncan, Jonathan, Gary, Bill, Kelly and Eric for your gift of time and of yourselves." Scott, Highlands Ranch, Colorado
"Men at the Cross created a safe environment for me to open up areas that were otherwise "taboo." Coming to this weekend, I was about to explode with emotions I couldn't put a name to.
All
men can benefit from this type of retreat. Thanks for sharing your passions with us." Eric, Broomfield, Colorado
"Only one word - freedom. Freedom to be the real me. Freedom to now share who I am with strength AND a desire to share my true self with my wife, family and most importantly, God." Darryl, Evergreen, Colorado
"The Men at the Cross weekend gives invaluable insight into the impact of shame in our lives. This shame drives our need to create the false self (what the Bible calls the old self). As we identify the false self we can put to it to death at the cross and risk being known by others and most significantly by God." Rabs, Boulder, Colorado